China TOPWIN Mini Compact Small Good Quality Backhoe Loader with Auger Earth Drill for Construction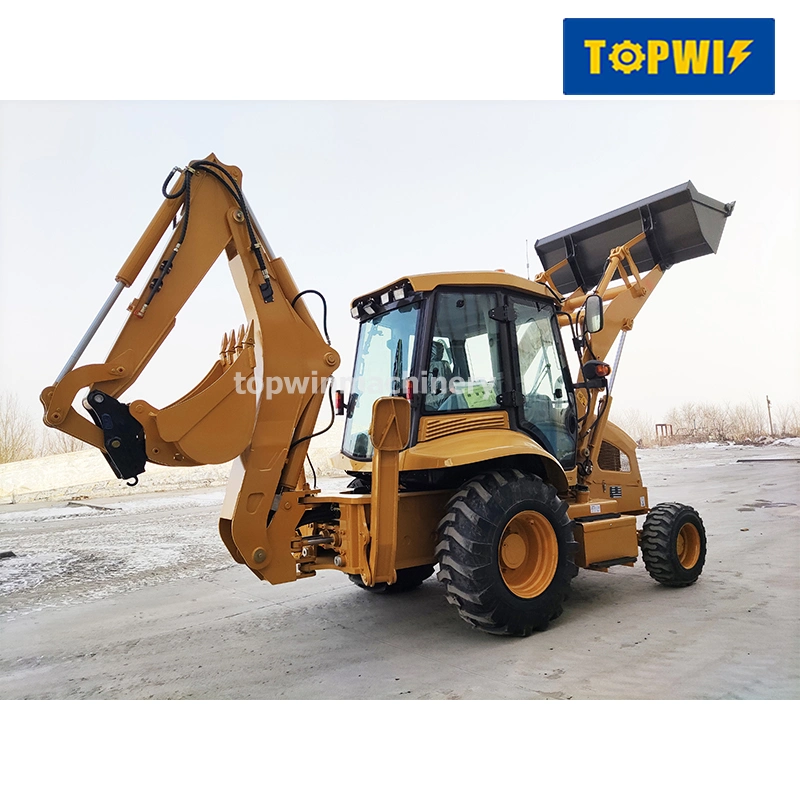 Backhoe Loader Standard
Configurations
:
TB388 backhoe loader
Loading bucket 1cbm,
Backhoe bucket 0.3cbm,
Yuchai YC4A105Z-T20 engine,
Fixed shaft power shift transmission, 2F/2R,
Dry axle, 4x4 drive,
Pilot control,
Cabin without Air-conditioning,
One unit by 1x40feet container
Optional:
Cummins 4BTA3.9-C100 (74KW) engine,
AC,
Carraro transmission
Backhoe Loader main features
:
The integral body frame with more stable operating condition, more suitable for digging work;
The excavating working structure is side shift type, higher strength, good structural stability; and the loading end adopt eight -bar linkage mechanism.
The boom adopts larger section, improving the rigidity and deformation resistance.standard excavator bucket with strengthened and thicker steel
Rear and front body, with small rotary radius,hydraulic steering,comfy and convenient to operate. heavy duty hinge joint and hydraulic pipe protection
Lifting enlarge operator cabin with secure glass and wide field, comfortable steering wheel, high quality seat and suitable joystick control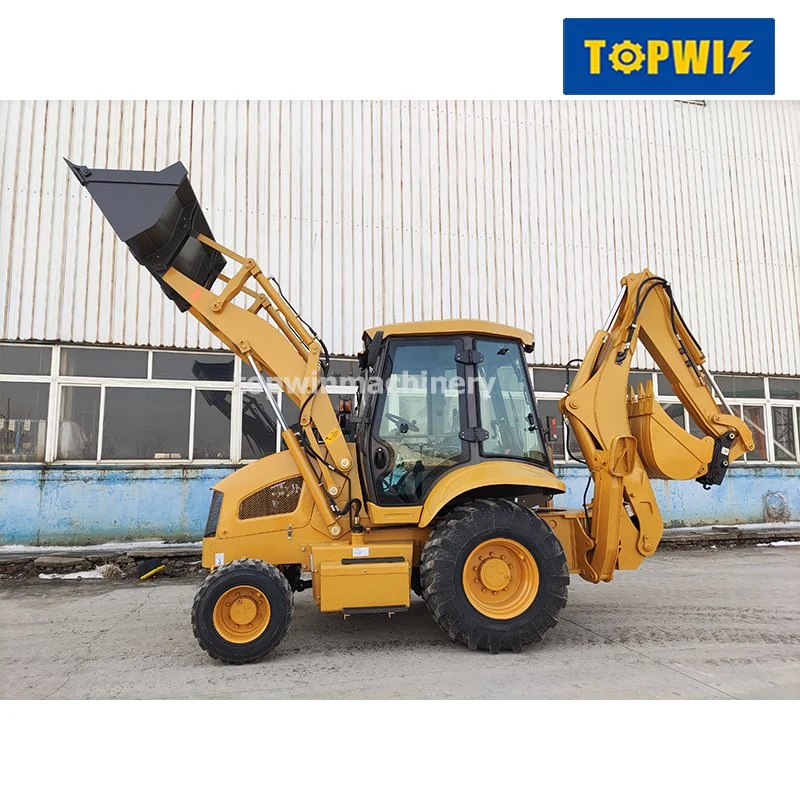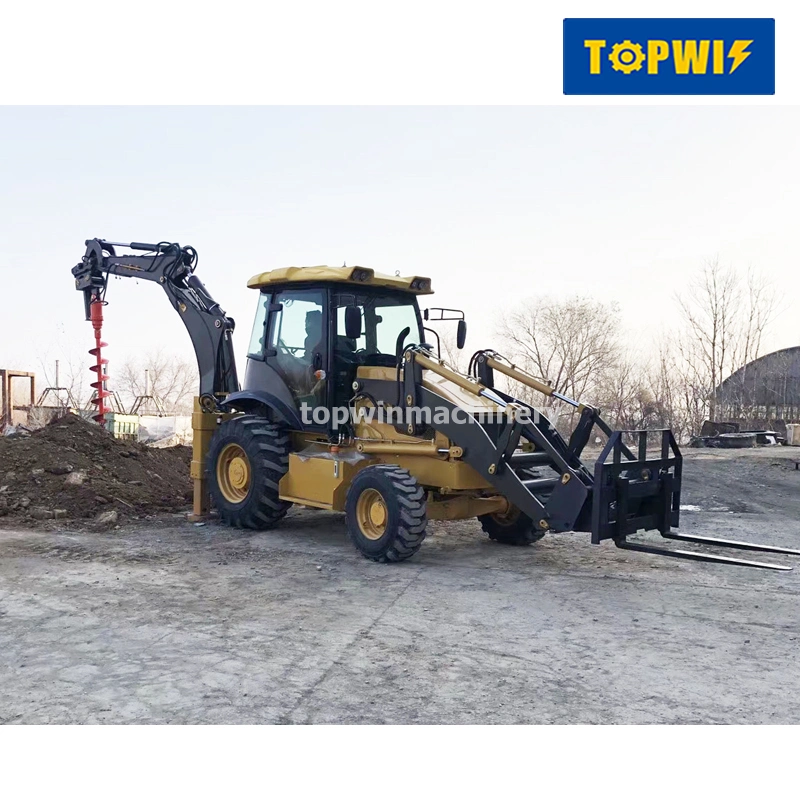 Backhoe Loader
attachments:
A tool for every job
Jack Hammer Or Breaking Hammer Or Breakers,
Quick Hitches,
Pallet Forks,
Fork Frame,
Auger Or Earth Drill,
Thumb Bucket,
Excavator Buckets,
Sweeper,
Grapple,
Ripper,
Rake,
Jaw Bucket,
Shovels,
Hand Held Tools,
Compactor,
Patch Planer
Backhoe loader specifications:
Transport Dimension

Overall Operating Weight

8200KG

mm L*W*H

6230×2365×3752

Wheel base

2200mm

Min. Ground Clearance

300mm

Bucket Capacity

1.0m3

Breakout Force

38KN

Loading Lifting Capacity

2500KG

Bucket Dumping Height

2650mm

Bucket Dumping Distance

1025mm

Digging Depth

52mm

Backhoe Capacity

0.3 m3

Max. Digging Depth

Max. Digging Depth

Swing Angle of Excavator Grab

190 degree

Max. Pulling Force

39KN

Engine

Model

YC4A105Z-T

20

Rated Power

7

5

KW

Steering System

Model of Steering Device

BZZ5-250

Steering Angle

±36 degree

Min. turning radius

6581mm

Pressure of the system

12Mpa

Axle

Manufacturer

Feicheng Axle Factory

Main Transmission Type

Double Reduction

Final Reducer

Single Stage Final Reducer

Rated Loader of Axle

4/18.5t

Torque Converter

Model

YJ280

Type

Single-stage Three Elements

Max. Efficiency

84.40%

Inlet Pressure

0.4Mpa-0.55 Mpa

Outlet Pressure

1.2Mpa-1.5 Mpa

Cooling Method

Oil-cooling Pressure Circulation

Gearbox

Type

Fixed Shaft Power Transmission

Oil Pressure of Clutch

1373Kpa-1569 Kpa

Gears

Two Gears Ahead, Two Gears Astern

Max.Speed

22Km/h

Tyre

Model

14-17.5/19.5L-24

Pressure of Front wheel

0.22 Mpa

Pressure of Back Wheel

0.22 Mpa

Brake System

Service Brake

Air Over Oil Caliper Brake

External Type

Self-regulation

Self-balance

Emergency Brake

Operation Power Implementing brake

Manual Operation Power Terminating Brake

Hydraulic System

Digging Power of Excavator Grab

46.5KN

Digging Power of Dipper

31KN

Bucket Lifting Time

5.4S

Bucket Lowering Time

3.1S

Bucket Discharge Time

2.0S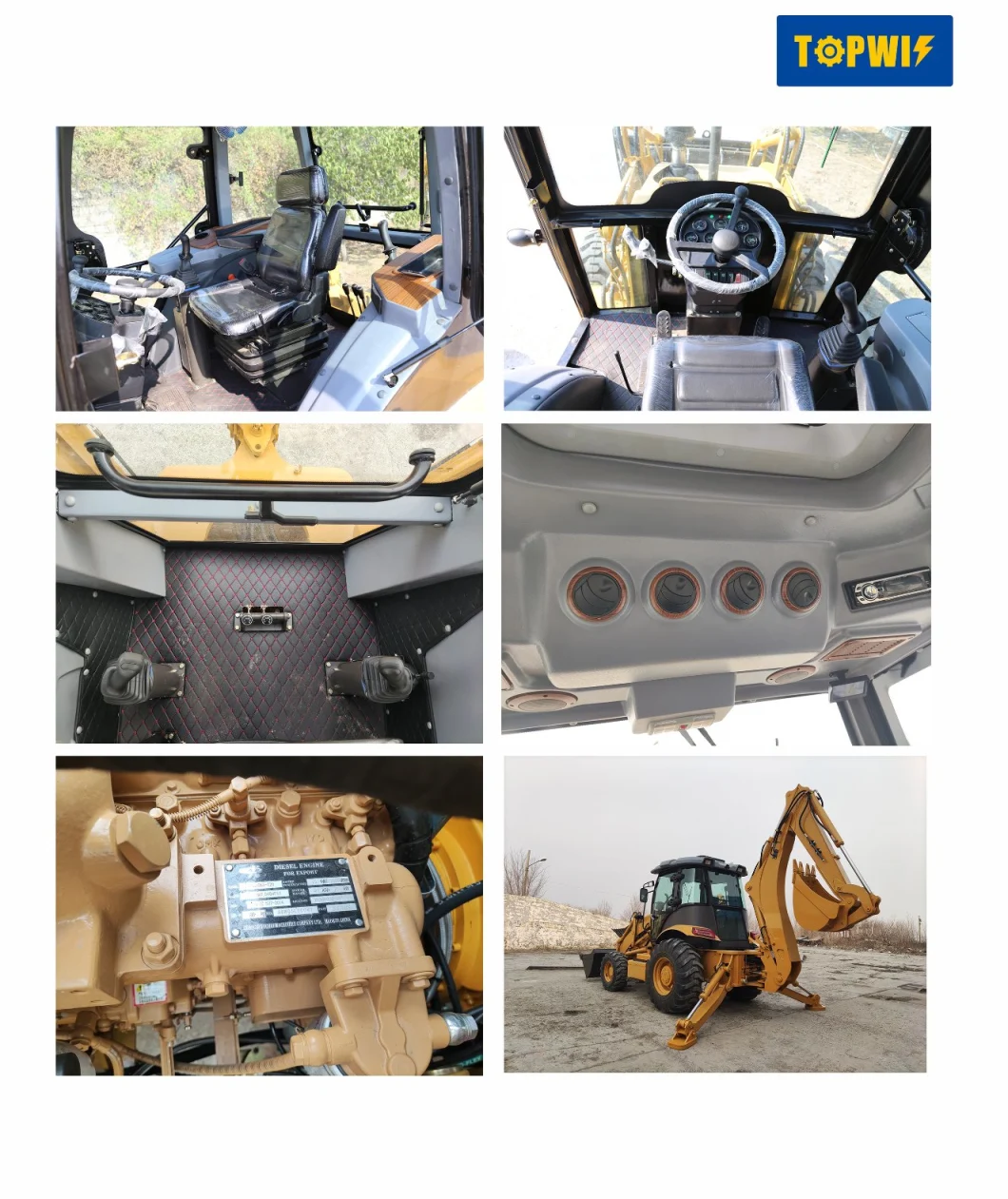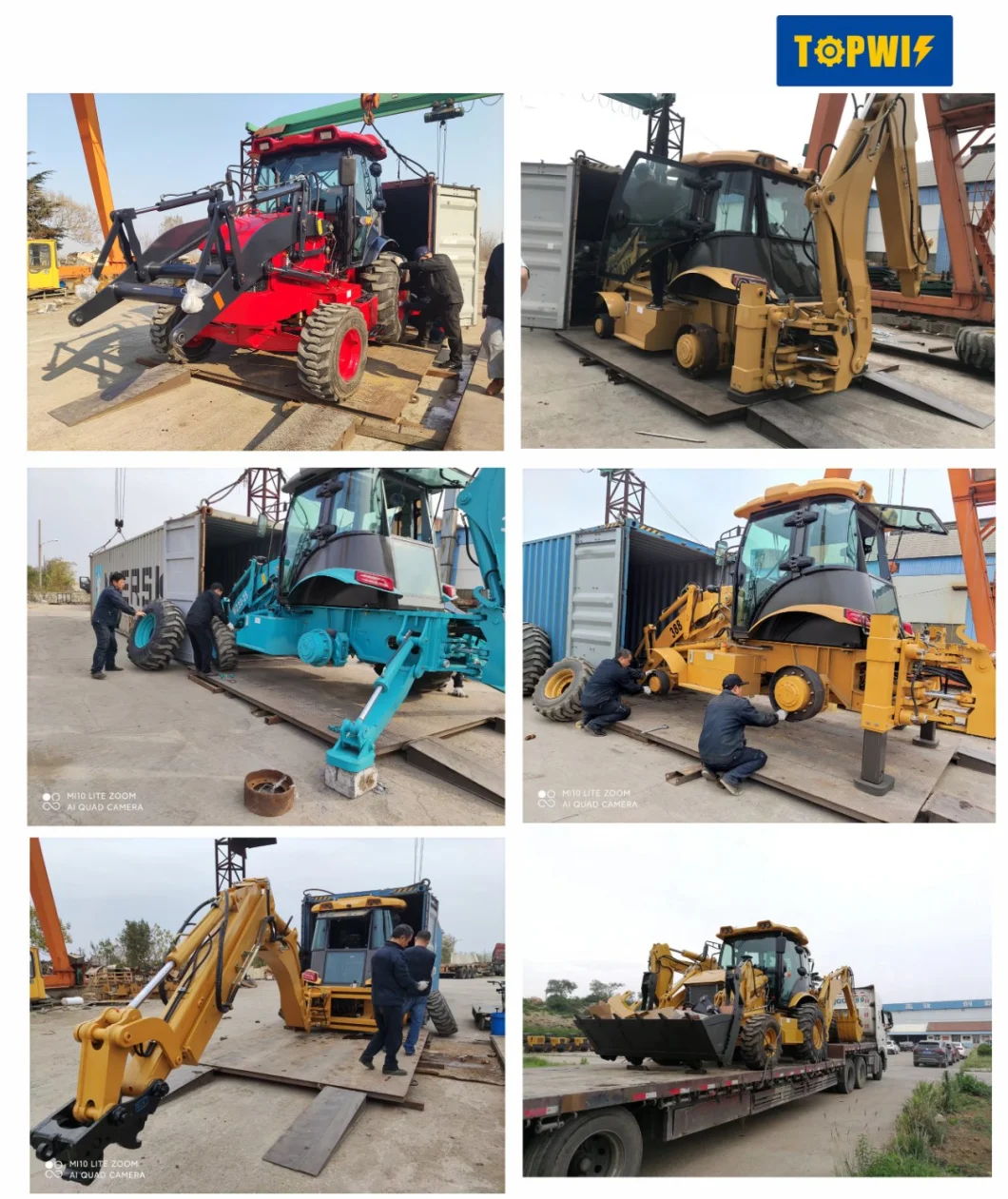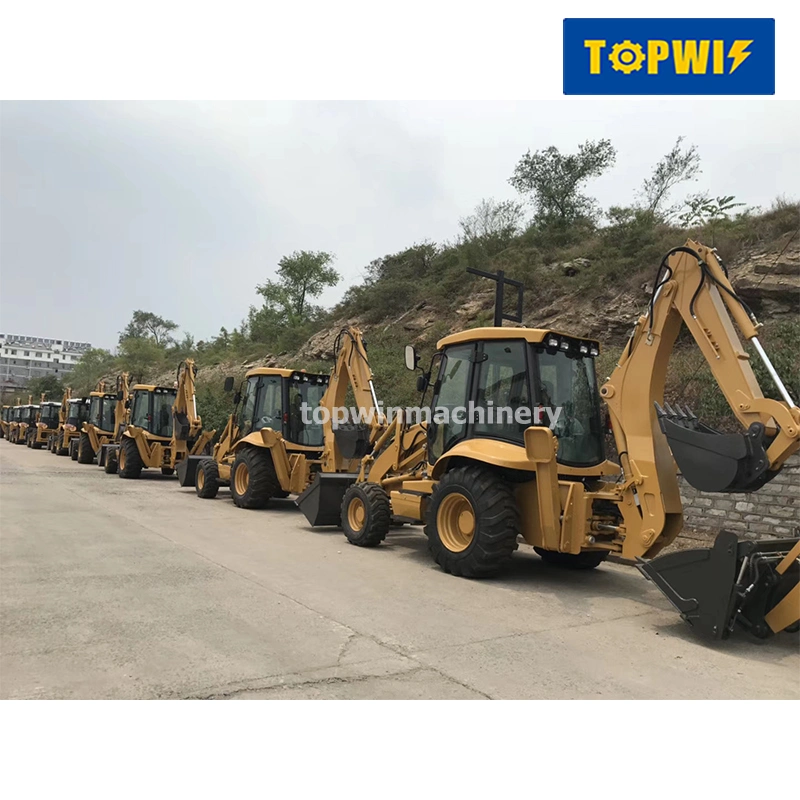 Shandong Topwin Machinery Co.,Ltd. (TOPWIN for short) is the one-stop solution provider for construction machinery, mining machinery, agricultural machinery and logistic machinery in China.
With more than 10 years experience in this field, TOPWIN has served various clients from USA, Canada, Mexico, Brazil, Argentina, Australia, Indonesia, Kazakhstan, Russia, Zimbabwe, Mozambique, Zambia, South Africa, etc.. We are helping our clients to succeed in every project by offering high cost-effective and reliable machines.
TOPWIN has enjoyed great reputations in road constructions, mining operations, farming, fertilizer manufacturing, etc.. That's why we get repeat purchases and more new clients from different countries and regions.
TOPWIN values high quality products and immediate response to clients' demand. We know how important it is for client to have a product that not only keeps on doing its job throughout the day, but also keeps on doing so for many years.